The Yellow Candle Story
The project was initiated by the Masorti Conservative movement's Federation of Jewish Men's Clubs in 1981 in the United States and Canada, to keep alive the memory of the millions who perished in the Holocaust. The candle is modelled on the traditional Jewish memorial Yahrzeit candle, but is yellow to represent the yellow stars that Jewish people were forced to wear.
Yom Hashoah is observed on the 27th of Nisan, the Jewish date on which we remember those who perished in the Holocaust. It was established by the first Israeli Prime Minister, David Ben Gurion, in 1953. This year it will be observed on 21st April. The essence of this project is to remember by name, individuals who died in the Holocaust.
It was brought into the UK in 2017 and The Yellow Candle founding committee members Paul Harris and Nick Gender gave their thoughts in 2019; Paul, who actually delivered the candles to me personally, said, "The yellow candle project is a simple but incredibly powerful and poignant way to remember individual victims of the holocaust."
The Yellow Candle project is an innovative way of perpetuating the memory of the Holocaust. Each Yellow Candle comes in a special bag, is provided with the name of a victim who died in the Shoah – many of them children.  Every victim was an individual with a life and a story, and it is hoped that this project will allow as many individuals as possible to be remembered.
Masorti Synagogues were approached in the UK and, as soon as I read about it, I thought it was a great idea. I wanted to make sure NEMS was part of this. Fortunately, being born in Alexandria, Egypt, my family was never subject to the Nazi atrocities and genocide. However, we did suffer post Suez and left Egypt with nothing, leaving all behind. But we did still have our lives! I knew that amongst our congregation, many had relatives who were murdered in the Concentration camps. In addition, there were many men, women and children who perished, who no longer had anyone to remember them.
In 2017, 3000 candles were brought over from the USA. NEMS requested 50 and these were quickly taken up by our members, as well as some being requested by friends of mine both Jewish and from other faiths; Christian, Muslim and Hindu, showing the breadth of the project and how it can help with cross community holocaust education as well as honouring the victims. I was also pleased to see that members' children, including our own, wanted to be part of this.
The most emotional thing was that most of the names supplied with the candles were those of children under 10. In fact, the youngest name was just 1 year old.  I asked that our members and friends not only took photographs of their lit candles, but also posted them on social media and sent them to me to put up in our Synagogue. The response was amazing, with friends from other Synagogues asking us about it and how they could get involved.
In 2018, Masorti in the UK increased their order to 13000, and 25000 in 2019. Similarly, we increased our requests to 144 and 192 respectively, through our members and by involving synagogues outside the Masorti movement. I had no problem putting the candles and names in special bags at home for everyone, I was just delighted that so many people wanted to take part! Again, people were strongly encouraged to post photos of the candles with the names of the Holocaust victims on social media.
In 2019, the Yellow Candle Project was taken over by Maccabi GB. It became a cross communal project which saw over 60 organisations including synagogue bodies, schools, shops and communal organisations, as well as individuals, come together and remember as one community. It is now sponsored by many well-known organisations and involves some famous faces, including politicians!
The Yellow Candle Project has given families the opportunity to speak about the Holocaust for perhaps the first time and raise awareness of what can happen if anti-Semitism goes unchallenged, something which is extremely relevant in our society today.
NEMS really embraced the Yellow Candle Project – spreading the word. Every year the candles are quickly taken up and I am contacted by members who rarely come to Synagogue as they feel so strongly about it. Donations are made and in 2020, any donation will be sent directly to Maccabi UK to help fund their efforts.
What I find even more amazing and emotional, is that most people have kept the names from past years and add the and read them out every year in addition to the new names they have received. Where people only originally ordered one yellow candle, they are asking for several more every year. Names have been kept and are read out at Yizkor, especially on Yom Kippur. Although the concept is to remember Jews on Yom Hashoah, many pray for victims of other genocides that have happened since.  This is fantastic way to honour all of those people and ensures many victims will still be remembered. Although it is still well short of the Six Million, I hear that Maccabi has ordered 100000 Yellow Candles this year and I see this just growing and growing as not only more Jewish Organisations are getting involved but non-Jewish ones too.
I get tremendous personal satisfaction, that we at NEMS were at the forefront of this amazing project which started on a small scale by Masorti Judaism UK and has now spread across to other sections of Judaism and embraced by other Faiths.
We must never forget those who were tragically murdered not only during the Shoah of the Second World War but in wars since then and we will continue to spread the word to honour the victims.
GUY SASSON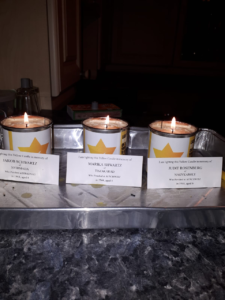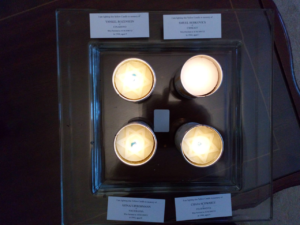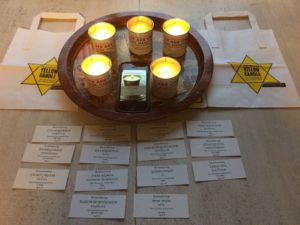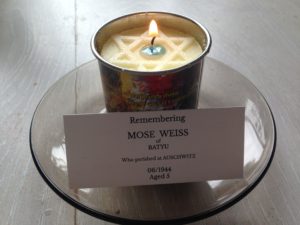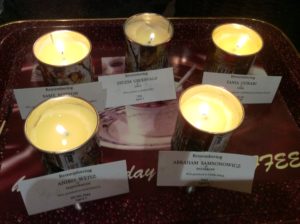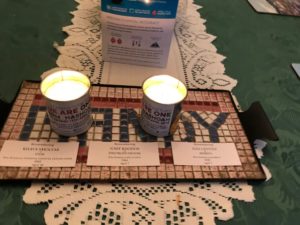 Sources:
Masorti Judaism UK – https://masorti.org.uk/
Macabbi GB –https://www.maccabigb.org/